Support
HIVE
Earn

interest!

Our experienced group of international curators works around the clock to support a wide range of authors on HIVE, motivating them to keep creating quality content.

The curation rewards paid out by the blockchain generate up to 10% APR for investors. Your HIVE never leave your wallet, where they earn another 2-4% staking rewards. That's a total of ~12% per year, completely passive, and without any counterparty risk.
Everybody wins! What are you waiting for? Join us now!
Curangel lets you put your HIVE to work, without actually doing anything.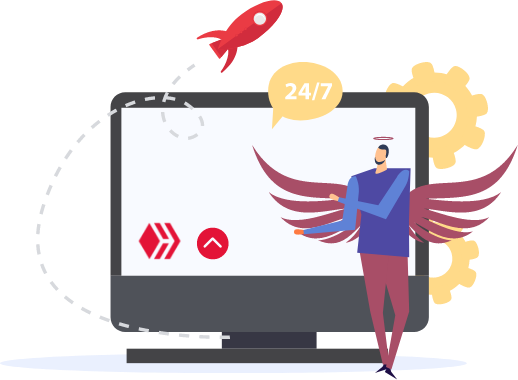 Curangel is a curation service rewarding curators and delegators while benefitting the whole Hive community, created by the long term witness pharesim.
Our curation is a combination of the hard work of manual curators and automated distribution of the votes of delegated stake. 80% of the curation rewards are given to delegators and 20% to the individual curator. Besides spreading the value and supporting creators and authors on Hive, the delegated stake is used by approved delegators to fight spam and abuse.
We strongly believe that empowering curators of Hive is the key to spreading the value, providing authors with exposure and motivation as well as increasing the quality of content on Hive. While whitelists work mostly, they are not abuse proof. With our curation model, curators ensure that only hand picked original content is is supported and promoted, and at the same time abuse cases are fought with downvotes from the combined stake of all delegators.
Curators look through a variety of communities and tags on Hive for original content from authors and add it to the queue for the Curangel account to vote once it reaches upvote mana of 100%. The weight of the vote depends on the length of the queue in a way that it will never take longer than 24 hours for a post to be voted after proposal.
To get a Hive account, select one of the options on signup.hive.io
After creating your account, fund it using one of the exchanges listing it (Ionomy, Bittrex, Probit, Huobi, MXC). Power up the funds.
As a last step, delegate to curangel using a wallet or the form on this page. You will receive your first daily payout in less than 48 hours. To recall or modify your delegation, just delegate 0 or the total of your new delegation. If your new delegation is smaller than the old one, it will take 5 days until you receive the difference back. To divest you need to power down, which returns you 1/13th of the amount as liquid Hive every week.